Neil Armstrong Signed Copy of His "Study of the Lunar Surface, Summary" along with Dossier Files from the Archives of Soviet General Nikolai Kamanin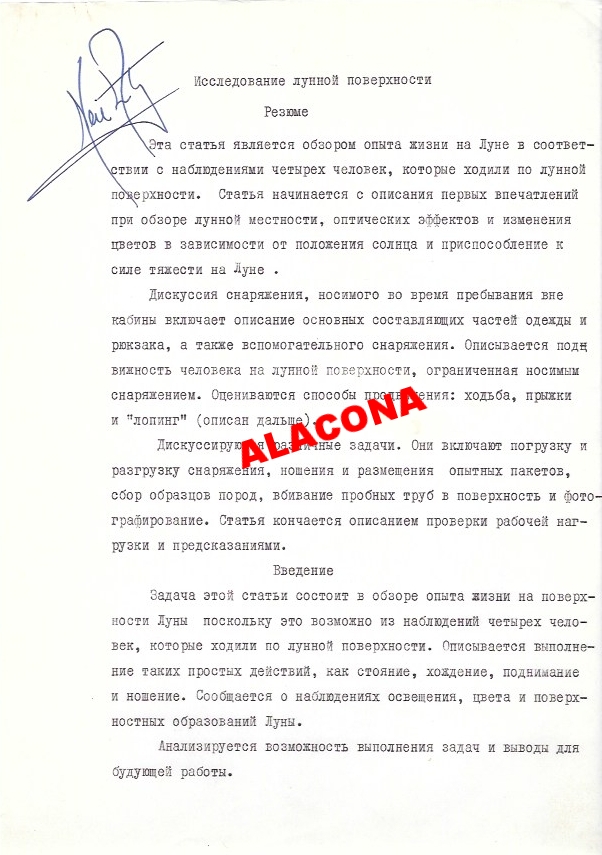 Neil Armstrong Signed Copy of His "Study of the Lunar Surface, Summary" along with Dossier Files from the Archives of Soviet General Nikolai Kamanin
Neil Armstrong's May-June 1970 Visit to the Soviet Union: Signed Copy of His "Study of the Lunar Surface, Summary" along with Dossier Files from the Archives of Soviet General Nikolai Kamanin.
A Russian language fifteen-page typescript document titled: "ИССЛЕДОВАНИЕ ЛУННОЙ ПОВЕРХНОСТИ, РЕЗЮМЕ"-a highly detailed report with extensive handwritten notations all through. It is boldly signed in blue ink on the front page: "Neil Armstrong". Armstrong's visit to the USSR was ostensibly to present the full version of this paper at the COSPAR conference in Leningrad. He signed this copy for General Kamanin. Possibly unique as this is the only known copy of Armstrong Apollo 11 Moon landing signed report in Russian. In fine condition.
In May 1970, Armstrong traveled to the Soviet Union. He presented a talk at the 13th annual conference of the International Committee on Space Research. He met Premier Alexei Kosygin and was given a tour of the Yuri Gagarin Cosmonaut Training Center.
Excerpt from Astronautics and Aeronautics, 1970:
June 2 (p. 190): Apollo 11 Astronaut Neil A. Armstrong, on goodwill trip to U.S.S.R., watched TV broadcast of Soyuz IX launch during party in his honor in Moscow and was told by Cosmonaut Georgy Beregovoy that mission was "especially in honor of your trip here."
Armstrong later presented moon fragment and small Soviet flag carried on Apollo 11 mission to Soviet Premier Aleksey N. Kosygin. Kosygin said he would "always cherish this gift as a symbol of a great achievement." He told Armstrong, "The Soviet peoples are second to none in admiring your courage and knowledge."
Soviet Academy of Sciences president Mstislav V. Keldysh called voyage "a big contribution to space exploration and further progress of world science." Cosmonauts send message to Apollo 11 crew: "We... closely followed your flight. We wholeheartedly congratulate you on the completion of your wonderful journey to the moon and safe return to earth."
SOLD