Member of Politburo Minister of Foreign Affair Andrey Gromyko Signed International Workers Solidarity Day Greeting Card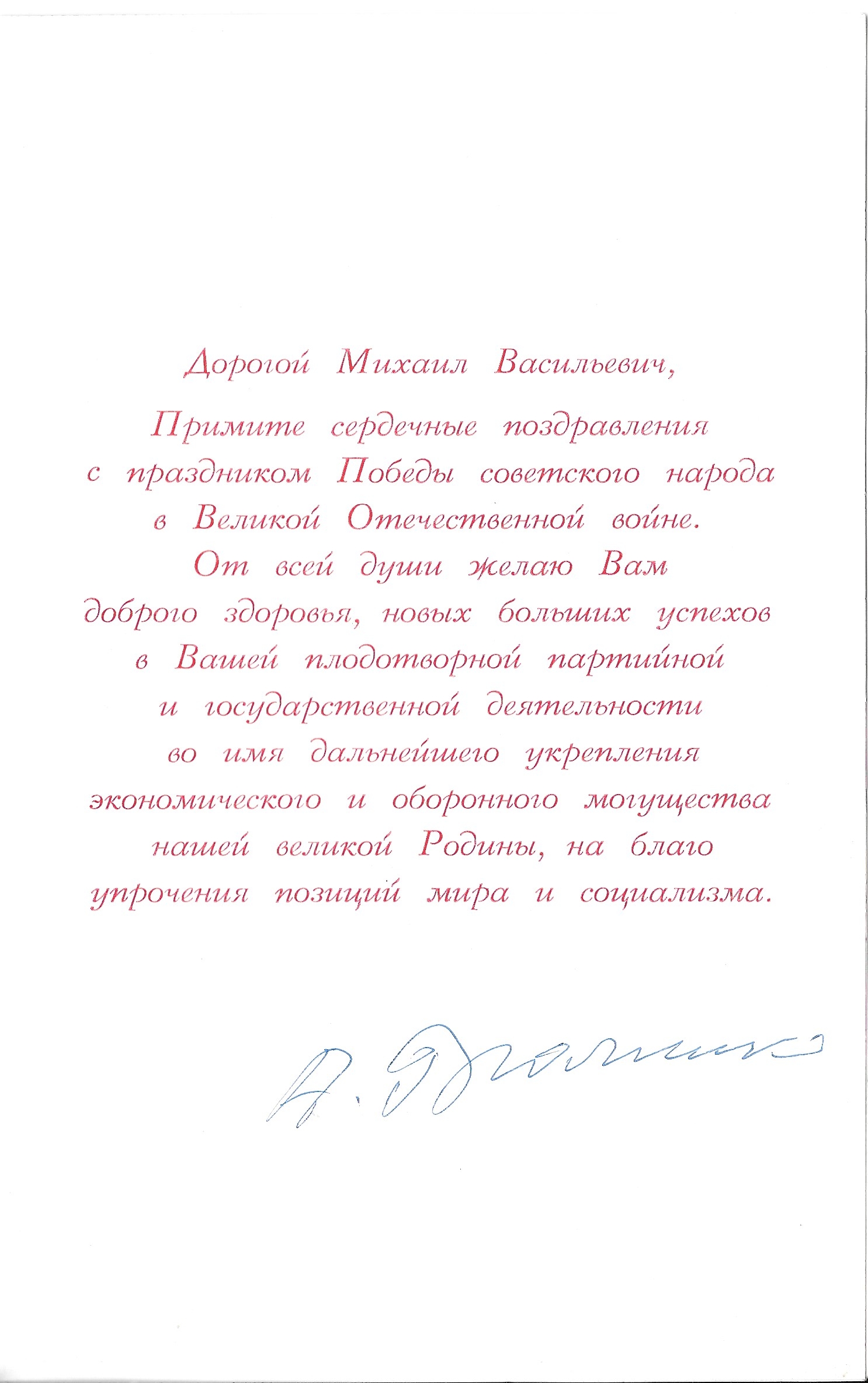 Member of Politburo Minister of Foreign Affair Andrey Gromyko Signed International Workers Solidarity Day Greeting Card
Andrey Gromyko signed greeting card.
Accept hearty congratulations on the Victory Day of the Soviet people in the Great Patriotic War. With all my heart, I wish you good health, new great successes in your fruitful party and state activity. For the sake of further strengthening the economic might of our great Motherland, for the sake of strengthening the positions of peace and socialism.
A. Gromyko (signature in blue pen)
L. Gromyko (signature in blue pen)
Size of the card (folded 8"x 5), excellent condition.
Andrei Andreyevich Gromyko (1909 – 1989) was a Soviet communist politician during the Cold War. He served as Minister of Foreign Affairs (1957–1985) and as Chairman of the Presidium of the Supreme Court (1985–1988). Gromyko was responsible for many top decisions on Soviet foreign policy until he retired in 1988. In the 1940s Western pundits called him Mr. Nyet ("Mr. No") or "Grim Grom", because of his frequent use of the Soviet veto in the United Nations Security Council.
The greeting card addressed to member of politburo M. Zimyanin.
Mikhail Vasilyevich Zimyanin (1914 – 1995) served as the editor-in-chief of the newspaper Pravda, the official publication of theCommunist Party of the Soviet Union, from 1965 to 1976. Afterwards, he was appointed to the party's secretariat. He retired on 28 January 1987 for "health reasons".
Please inquire by email for more information on pricing and availability.