Cosmonaut V. Tsibliyev Soyuz TM-25 Flown Onboard Mir Space Station business card of Lieutenant-General A. B. Zapadinsky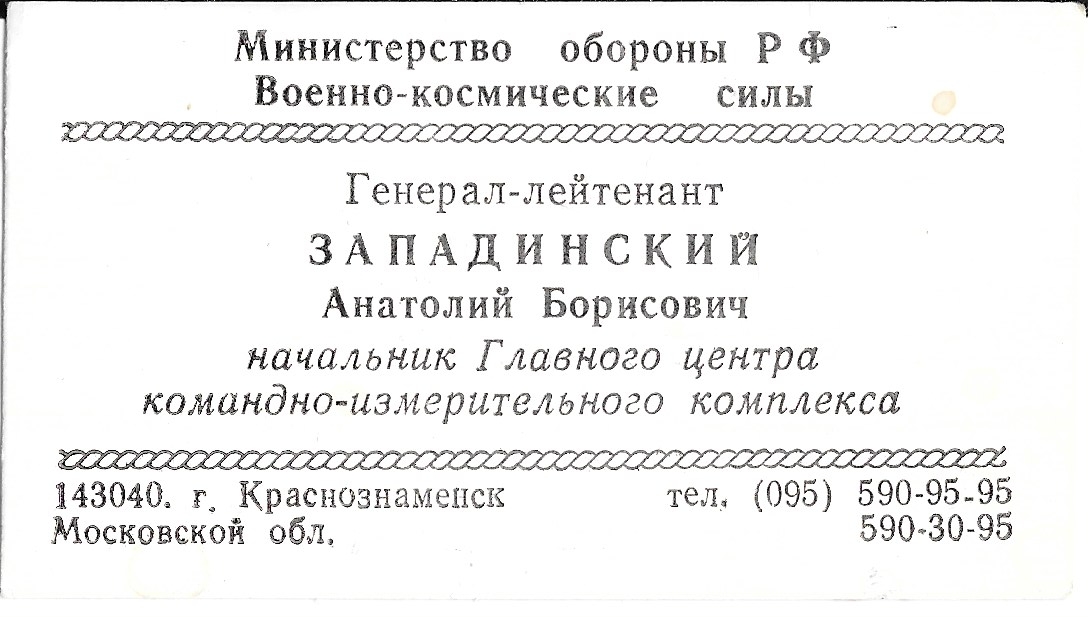 Cosmonaut V. Tsibliyev Soyuz TM-25 Flown Onboard Mir Space Station business card of Lieutenant-General A. B. Zapadinsky
Flown on board Soyuz TM-25 business card of Lieutenant-General Zapadinsky Anatoly Borisovich
On the back of this card is 4 stamps: 2 from onboard Mir Space Station. Another two as Postal office of Orbital Mir Space Station dated May 22, 1997 and May 17, 1997.
Size 3.1/2" x 2".
Zapadinsky Anatoly Borisovich Lieutenant-General, head of the main center of the command-measuring complex in Krasnoznamensk.
Cosmonaut Vasily Tsibliyev was commander of the Soyuz TM-25 from February 10 to August 14, 1997.
During the expedition on February 23, 1997, a fire broke out at the station from a defective oxygen checker. June 25, 1997 when reconnecting the Progress M-34 TGG, the ship collided with the complex, which led to the depressurization of the Spectrum module. I made an exit to outer space lasting 4 hours. 59 min. Flight duration: 184 days. 22 hours. 07 min. 41 seconds Callsign: Sirius-1.
Please inquire us by email for more information on pricing, images and details.